PizzaDAO's Bitcoin Pizza Day parties are a global event that celebrates the life-changing moment in which a guy paid 10,000 Bitcoins for two pizzas from his dad. The party draws attention to how cryptocurrency can be used as an investment or payment option and highlights the benefits of blockchain technology.
The "laszlo hanyecz" is the person who famously spent 10,000 Bitcoins to buy two pizzas in 2010. Today, we celebrate Bitcoin Pizza Day with 100 parties worldwide.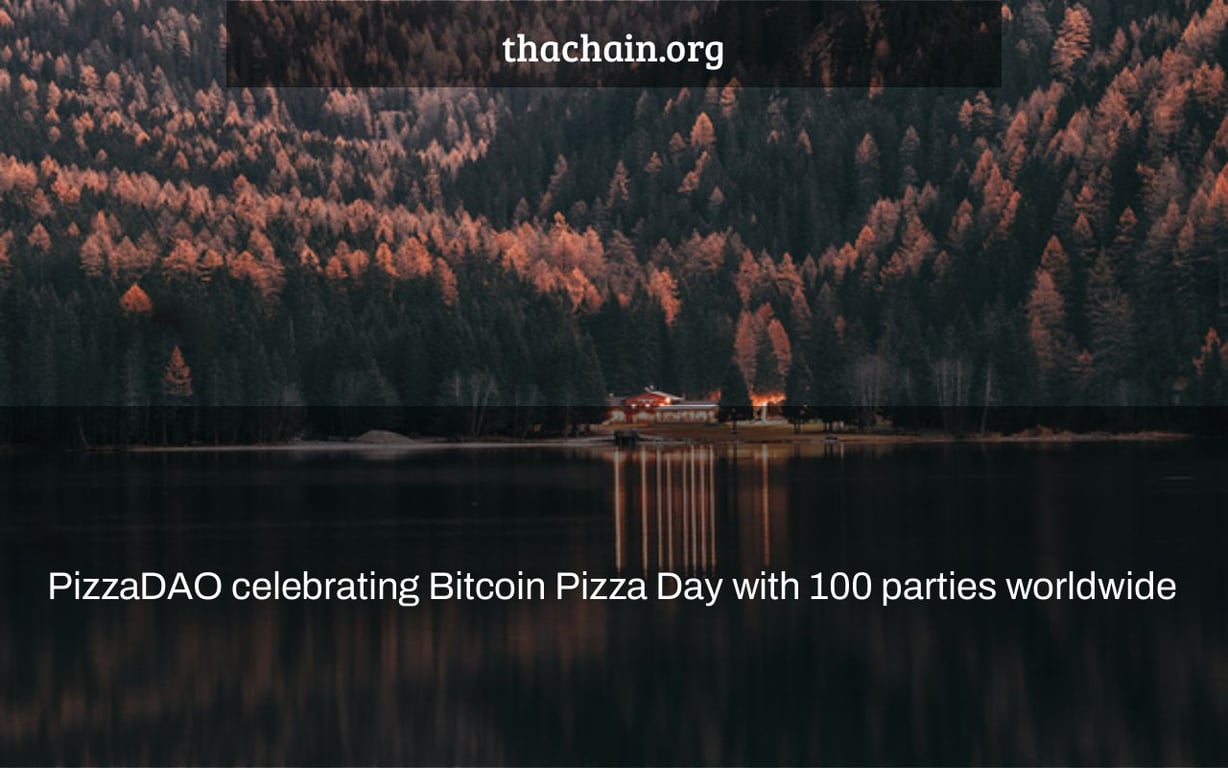 Pizza DAO, a decentralized blockchain initiative aiming to bring the world's pizza lovers together with Web3's technical capabilities, is celebrating Bitcoin Pizza Day in style on Sunday.
On Sunday, memorial activities will be held in 100 pizzerias in over 75 countries, including the United States, Argentina, South Korea, Ethiopia, Australia, Canada, and the United Kingdom, among others.
The events will include a variety of supporters, including 13-time World Pizza Champion Tony Gemignani, Seth Green, Steve Aoki, the Dogecoin team, and comedians Cheech and Chong, among others, in addition to a nonfungible token (NFT) drop and philanthropic drive.
Since the 2017 bull market revived and exalted the story of hardship from the blockchain archives, Bitcoin Pizza Day has become a permanent fixture and cultural highlight in the crypto calendar.
Laszlo Hanyecz posted a 153-word comment on the Bitcoin Talk message board on May 22, 2010, asking for someone to either home prepare and bring two big pizzas, or just pick up two large pizzas from a local takeout, stating:
"I'll pay 10,000 bitcoins for a couple of pizzas… maybe two huge ones so I have some the following day […] Please let me know if you're interested and we'll figure something out."
The resident of Jacksonville, Florida, was quite specific about his topping preferences, writing: "I want onions, peppers, sausage, mushrooms, tomatoes, pepperoni, and other traditional ingredients, with no strange fish toppings or anything. I also like normal cheese pizzas, which are less expensive to make or buy."
"10,000… That's quite a number.. you could sell them on https://www.bitcoinmarket.com/ right now.." said user ender x, attempting to convince Hanyecz that his money would be better spent elsewhere.
But Hanyecz persisted, and seven hours later, he was able to successfully swap 10,000 Bitcoin (BTC) for the pizzas. One person responded, "A tremendous milestone has been accomplished."
That pizza purchase is worth $298 million at the time of writing, over twelve years later.
Laszlo Hanyecz, source
We've All Had A 'Pizza Day Moment,' Right? Which is yours?
Apart from its entertainment and comic appeal, Hanyecz's narrative exemplifies the parabolic expansion of Bitcoin and the whole industry over the last decade. For many market players, it highlights the need for humility and gratitude, as well as conviction in early adoption.
Snax, the creator of PizzaDAO, talked with Cointelegraph about their objectives and aspirations in commemorating the historic day:
"Web3 is a chance to reimagine our financial reality on the globe, to foster agreement, and to dream large. What better way to develop international cooperation than to hold a global pizza party?"
Through the use of their open-source Pizzanomics crowdfunding approach, PizzaDAO hopes to bring "local independent enterprises on-chain." The events will be funded by a generation nonfungible token (NFT) collection that represents various Rare Pizzas pizza box varieties.
Benton Yaun, the creative head at CT Studio, has listed the project as one of the five most notable decentralized autonomous organizations (DAOs) in the field in Cointelegraph's Market Report.
Seth Green, an enthusiast of PizzaDAO and one of the event's most important supporters, is renowned for playing in films such as Austin Powers and The Italian Job, as well as providing the voice of Chris Griffin on Family Guy, among other producing and writing duties.
"I'm all for things that bring people together, and pizza is one of those things," Green said in an interview with Cointelegraph. Organizing a worldwide pizza party that everyone may attend? "I'm here to help!"
On 22nd May, 2010, a man by the name of Laszlo Hanyecz paid 10,000 Bitcoins for two large pizzas. The story went viral and was even mentioned on the "Today Show". PizzaDAO is celebrating Bitcoin Pizza Day with 100 parties worldwide. Reference: bitcoin pizza story.
Related Tags
bitcoin pizza day wiki
bitcoin price
pizza dao crypto
laszlo hanyecz net worth
freepizzaday