The first cryptocurrency exchange to be listed on Nasdaq is set to launch next month. XP, the company behind this venture, believes that its product will help bring legitimacy and mass adoption for cryptocurrencies in Brazil.
The "xp brazil" is a cryptocurrency exchange that uses XP technology. It is the first of its kind in Brazil and the Nasdaq partners with them to launch it.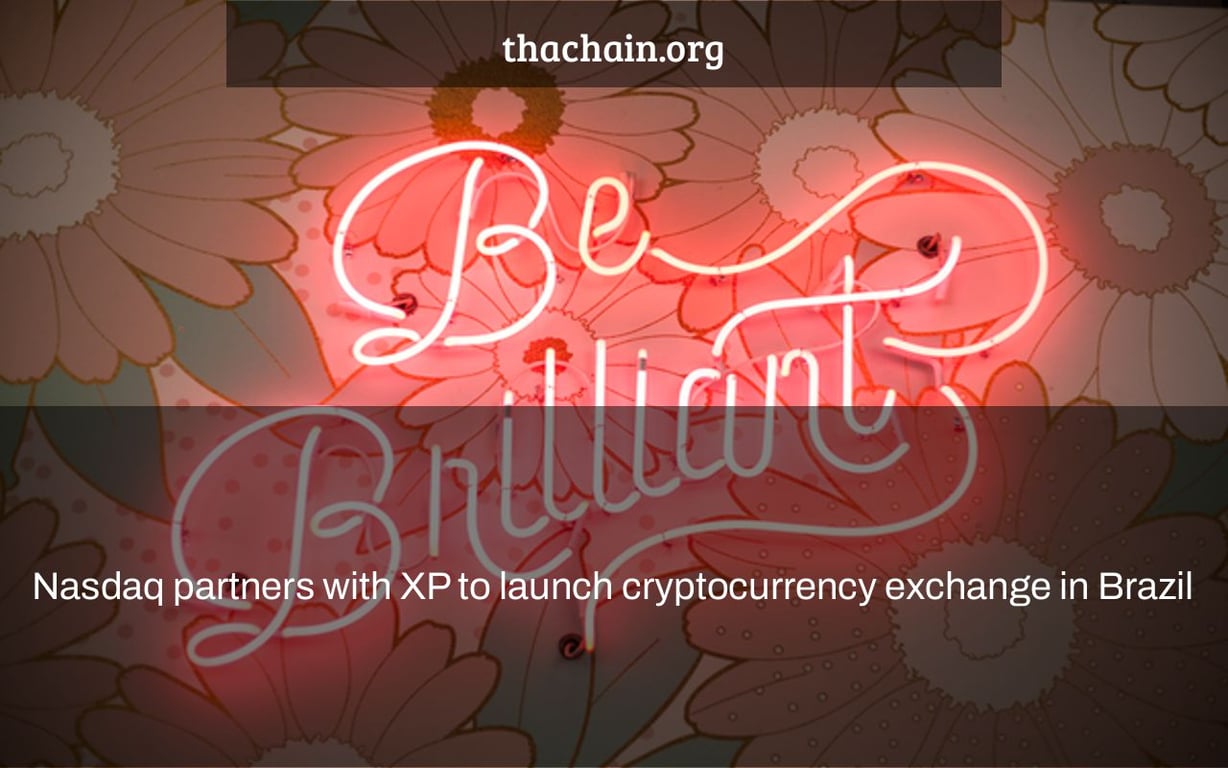 XTAGE, according to XP, will debut in Q2 2022 and will be completely integrated into the XP Inc ecosystem, which is Brazil's biggest investment brokerage with over 3.5 million customers and $168 billion in assets under custody.
According to XP, the exchange will first handle the buying and trade of cryptocurrencies, but the platform will eventually accept other digital assets and crypto-based financial products.
"The launch of XTAGE marks a significant step forward in the development of the digital asset market and our ability to provide investors with wider access to the digital asset ecosystem." "We are convinced that XP will run on an innovative and strong infrastructure thanks to our technological relationship with Nasdaq," said Lucas Rabechini, XP's director of financial products.
Nasdaq's cooperation with XP, according to Roland Chai, executive vice president and head of market technology infrastructure, would provide new prospects for enterprises and investors.
This isn't the first time that NASDAQ has worked with a Brazilian cryptocurrency startup. The American firm teamed up with Hashdex to produce the world's first Bitcoin Spot ETF in 2019.
This is also not the first time that XP has attempted to start a cryptocurrency-focused firm. Cointelegraph reported in 2018 that the business had created XDEX, a cryptocurrency trading platform, however it was shut down in March 2020, right before Bitcoin's most recent bull run.
Brazil has a thriving cryptocurrency market.
Nubank, Latin America's biggest digital bank, has announced a partnership with Paxos to enable Paxos users to buy, trade, and store bitcoins directly via Nubank.
Nubank said that it would dedicate around 1% of its net assets to Bitcoin (BTC) via the Nu Holdings cashier, which owns the Nubank Group, in conjunction with the introduction of the new cryptocurrency transaction services.
BTG Practual is another Brazilian bank that will provide Bitcoin investing options to its clients. Roberto Sallouti, the bank's president, has revealed that the bank would open its own cryptocurrency exchange in about two months, stating:
"Our bitcoin trading platform will be ready in two months […] BTG's proposition is to provide our customers with a comprehensive investing platform."
XP Inc said on Thursday that it would join with Nasdaq to build a cryptocurrency exchange dubbed XTAGE in Brazil.
The "how to buy bitcoin in brazil" is a partnership between Nasdaq and XP, which will allow for the launch of a cryptocurrency exchange in Brazil. The company has partnered with local financial institutions to provide services for users who want to trade cryptocurrencies.
Related Tags
nasdaq crypto exchange
cryptocurrency in brazil
cryptocurrency companies in brazil
xp investimentos
crypto currencies