This year has seen a wealth of new projects and cryptocurrencies make their way onto the Bybit Exchange, but it is quite rare for an established project to come by. The high demand from investors across platforms means that they will have no shortage of liquidity on the exchange with this addition.
The "pochi inu presale" is a token that will be listed on the Bybit Global Exchange on 6th of May. This is the first time that a Japanese cryptocurrency has been listed on BGBX.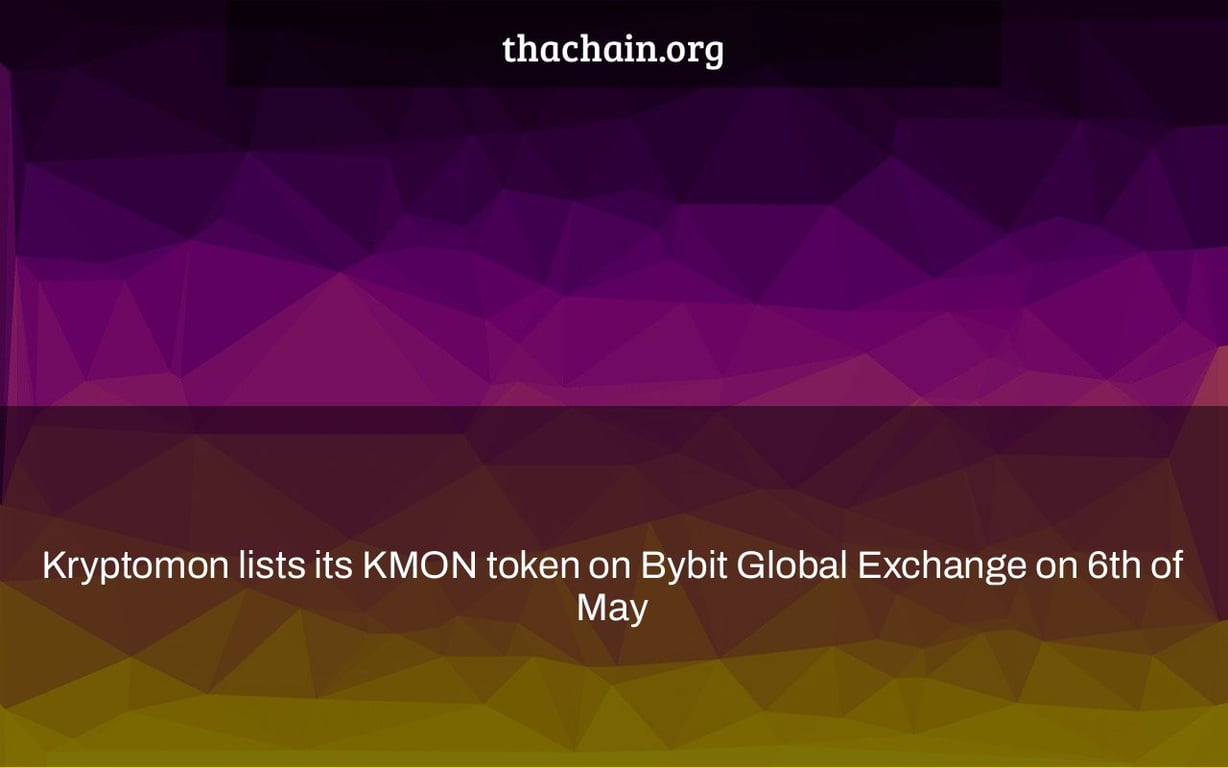 2nd May 2022, Amsterdam, Holland Chainwire
Kryptomon offers its KMON token on Bybit to spread its gaming world to a wider audience, bridging the gap between blockchain technology and AAA-level gameplay.
The KMON token has been listed on Bybit by Kryptomon, the live NFT-powered play-and-earn gaming concept that combines nostalgic appeal with current blockchain technology. Bybit's worldwide user base will be able to buy, sell, and trade KMON, Kryptomon's native token that enables all in-game operations, including the KMarket NFT marketplace, where players may support their developing NFT animals and buy gameplay add-ons.
Drawing inspiration from classic titles like Pokemon & Tamagotchi, Kryptomon brings to life collectible living NFT creatures with distinct, mutable genetic features and characteristics in its play-and-earn game. Players are able to nurture, raise, and battle with other players with their unique monsters while exploring the expansive lore of Kryptomon's Metaverse ecosystem. Part of this exploration includes monthly augmented reality "Treasure Hunt" events. This unique move-to-earn feature allows Kryptomon's community to hunt for treasure chests that may include NFT eggs, KMON tokens, and in-game items, encouraging players to discover their natural surroundings to improve their gameplay experience.
Users of Kryptomon may get immediate access to the game's universe, which merges real-world and Metaverse gaming. Bybit serves as a one-stop crypto shop for the expanding Kryptomon community, allowing them to effortlessly get KMON tokens, which power all aspects of the Kryptomon play-and-earn experience. In addition to treasure hunts and in-game possibilities to earn KMON, the token listing gives players a head start in building their Kryptomon lineup.
"Listing our token on Bybit is a huge step forward in helping us build our community on a worldwide scale," says Umberto Canessa Cerchi, Kryptomon's Co-Founder and CEO. "Without our community, our game and Metaverse would be nothing, and having our token listed on a well-known platform lets us to create an even better and more rewarding experience for the next generation of players while also extending our global community."
"Bybit is all about providing a varied variety of tokens and digital assets to our global user base," May Liu, Bybit's Listing Manager, explains. "Adding the KMON token to our platform will make it even easier for users to support new crypto projects and tokens."
Kryptomon is a fictional character created by Kryptomon.
Community members take on the role of "Trainers" in the Kryptomon metaverse, caring for their own NFT pet monsters, who have a unique and modifiable genetic code made up of 38 randomized factors that define their physical and behavioral features. When they're out on an adventure in the physical world, they may learn, get ill, become hungry, and defend their trainers. In order to develop and prepare for the fights ahead, trainers must care for, feed, and train their Kryptomon companions. Kryptomon uses blockchain, digital genetics, and location-based technology to develop the next stage in the growth of crypto and Metaverse gaming. Visit https://kryptomon.co/ to learn how Kryptomon is developing its game world.
Bybit's bio:
Bybit is a cutting-edge, user-friendly cryptocurrency trading and exchange platform. Bybit is the industry's safest, quickest, fairest, and most transparent trading platform, built from the bottom up with best-in-class technology. Bybit was developed with the goal of assisting crypto believers in realizing their aspirations and achieving their independence. Visit https://www.bybit.com/en-US/ to discover more about Bybit's worldwide exchange platform.
Contacts
CMO
Nuni Tomer Warschauer
The Kryptomon Company B.V. is a company based in the Netherlands.
+31-202-170887
The "kryptomon coin price" is a cryptocurrency that was listed on the Bybit Global Exchange on 6th of May. The KMON token is currently trading at $0.0007 and has been in a downtrend since then.
Related Tags
kryptomon coinmarketcap
poochie inu coin
pochi inu twitter
pochi inu coin where to buy
bunnyverse token